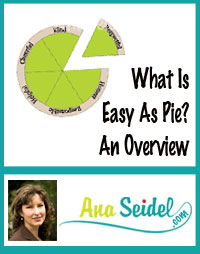 So now I felt discouraged and stuck. 1-2-3 Magic, Super Nanny, and Have a New Kid by Friday didn't work for me. What was I supposed to do to get my children to respect me?
I started researching different behavior philosophies, including work from the groundbreaking American behaviorist B. F. Skinner. I began to understand why my children behave the way they do and why the other expert's advice didn't work. So I spent over 6 months developing the Easy As Pie parenting method based on my behaviorism research.
By using the Easy As Pie magnetic pie pieces and changing my dialogue with them, I watched our four children's behavior change dramatically within one week! And I hadn't even perfected all the elements that I would end up creating over the next several months.
It works because you're teaching your children in a positive way that shapes their behavior. Children no longer live in fear of punishment that appears random. Now they have a consistent way to earn back their privileges. Life becomes more predictable.
So Just What is Easy As Pie?
Easy As Pie is a step-by-step method to shape children's behavior without spanking, yelling or time-outs. How is this possible?
Easy As Pie is a parenting tool that removes all punishments. When a child stops living in fear of possible punishment, they choose to behave differently. You behave differently because you no longer become angry at your children when they misbehave.
If I haven't lost you already—because you can't believe it's possible to parent without punishing or discipline—stay with me a bit more.
One of your responsibilities as a parent is to raise children who know how to choose appropriate behaviors in any situation. We get 18 years to accomplish this goal. But until now, there has never been a method that shows you step-by-step how to parent positively. The families who participated in my trial group proved to me that anyone with focus, persistence and consistency, can parent using Easy As Pie.
Easy As Pie has two components—physical and verbal.
Physical
The physical part consists of 6 magnetic wedges that fit together to make a circle. Each wedge has a moral or virtue that you are teaching; Respectful, Responsible, Honest, Cheerful, Kind and Helpful. These "pie pieces" live on a magnetic surface like your refrigerator or magnetic board. The "Pie" is a visual tool to help your children learn the meaning of values you are teaching.
Verbal
The verbal part is contained in the Easy As Pie manual. It's the process of how to effectively use the "pie pieces" and your dialogue to label children's unwanted behaviors. You will also learn how to tie activities that your children love to those "pie pieces." This in turn will motivate your children to earn their "pie pieces" back so their Pie is "Whole." You will learn that it is the entire family's responsibility to help any child earn their pieces back. This creates sibling bonding and teamwork. This is a radically different but effective way to parent.
So, what do you do when you can't spank anymore? Ah! Now "Time-out" enters the scene and is encouraged by many professionals. My children proved to me over and over, that time-outs just don't work to change behavior. They are just exactly what they're named—a time-out. It's a break that stops the unwanted behavior momentarily, but then easily becomes repeated a few minutes later.
Easy As Pie is a parenting method that turns your focus away from punishments and time-outs. Unwanted behaviors are only labeled. There is absolutely no punishment or discipline for an unwanted behavior—only labeling. Since your children want their Pie to be Whole, you will be consistently teaching your children positive behaviors by helping them earn their Pie pieces back. They will be continually practicing positive behavior. Your children quickly learn the positive behaviors you want in your home. The unwanted behaviors naturally go away.
Parenting with Easy As Pie is an extremely rewarding experience because you'll feel like you are really teaching your children. The yelling, lecturing, counting to 3, spanking and time-outs will become tools that you dump as quickly as an old typewriter in the computer age. With the Easy As Pie parenting manual—you will know better—and parent better.
What About You?
Do you want to parent positively but are still having trouble with your children?